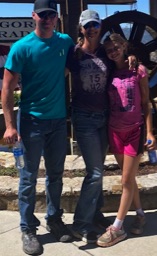 Growing up in a small town I wanted to share with you some of my favorite things. Visitors can indulge in and experience the culture of rural america. We have wide open spaces, dirt roads, home cooked meals, and miles upon miles to walk, hike, or ride a horse. We hope you enjoy it as much as we do.
Kristy, Christian, and Cadence
#NFHorseRanch
Favorite Meals:
The Bluff - Is a locally owned restraurant in town just 5 miles south. It has a great selection of beers, burgers, salads and steaks. My favorite is the rueben sandwich with homemade german fries. My son loves the double bluff burger smothered in cheese, onions, and mushrooms. My daughter loves the shrimp alfredo.
If you like national chain restraurnats, there is an IHOP & Sonic just 5 miles away on I70.
Sun Shine Bakery - If you like your morning coffee and donuts, I highly recommend this locally owned bakery. My favorite breakfast is their protein balls (healthy morning breakfast). My daughter loves their colorful and not traditional donuts! My son loves their flavored coffee and traditional breakfast burritos. They are five miles south of the ranch. Take a left at the golf course and go east another mile. The bakery is at the intersection of Hwy 40 and Hwy 83.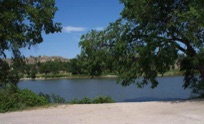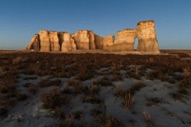 Little Jerusalem State Park - This just opened to the public last year and is very cool to see. It is a 30 minute drive south of the ranch. When I was a kid, this land was privately owned by a family friend. We grew up climbing on the rocks in the early spring.
While touring the state park, also check out the Pyramids along the way. The Pyramids are only about 10 minutes off the route, simply look for the signs off the highway (this is the picture on the far right). In order to get to this site you will have to go through a few cattle guards and dirt roads. We would not recommend this site if it has freshly rained.
Scott Lake has a lot of great hiking trails that give you a beautiful picture of the lake. We went last year several times and my kids spent more time on their bikes then fishing. This lake also has horse trails for riders.
Looking for something not so advertised and commerical? There is a really cool cave where Cowboys and Indians battle that is south of Scott Lake. For all you history buffs this is a must see! Also Scott City has buffalo tours and you could see the white buffalo which is a sign of good luck.
Check out this website for more information: https://visitscottcity.com/attractions/duffs-buffalo-ranch-.html
Swimming Pool - Looking for a place to cool off in June/July? Our small town has the coolest water hole. They have slides, diving boards, and a special pool for small children. It is $3 for adults, making it very affordable to take the entire family.
Favorite Things to Do:
Buffalo Bill Cultural Center - A giant bronze statue of Buffalo Bill riding a horse. This is a great picture opportunity and it is free! They have a small shop in the culture center with extraordinary paintings inside. If you love history or pictures, this is a must see. It is 5 miles south of the ranch on Hwy 83.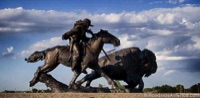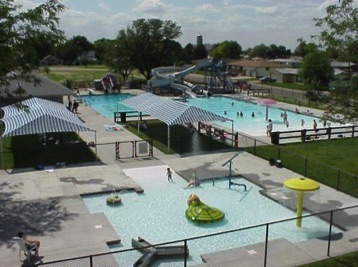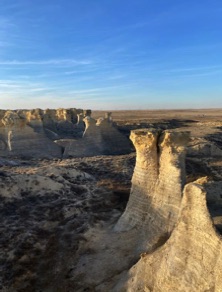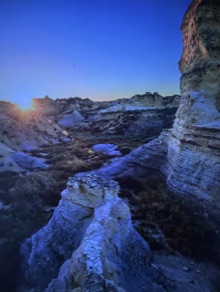 History Behind North Fork:
Looking out of the windown of the barn, visitors can see the ravine in the pasture south of the ranch. This often fills when we get a lot of rain in the spring. This is call the North Fork of the Saline River. This is why the ranch is named "North Fork".